A very delicious evening snacks item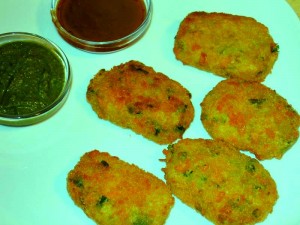 Ingredients
FOR CUTLET
Two sweet corns.
Half(1/2)cup bread crumbs.
Two TSP gram flour.
Cumin(1-TSP).
Funnel seeds(1-TSP).
6-salt to taste.
pinch of black salt.
half(1/2) TSP amchur.
Green chilli and coriender leaves to taste.
Oil for frying.
FOR CHUTNEY
Two big tomatos.
One inch ginger.
Four garlic cloves.
Green chilli.
Coriender leaves and mint leaves.
Salt and pinch of garam masala.
One TSP roasted ground-nut.
One TSP cumin seeds and 1/2 TSP sugar.
Procedure:
Peel off and boil the sweet corn,mesh it and mix all the cutlet ingreadents.Make a medium sized oval shaped balls and flaten it by your palm.Heat the oil in a pan and deep fry the cutlet in medium-low flame(if you are health concious then you can shallow fry the cutlet in non stick pan).when the cutlet changes to brown then take it out from the pan and serve with chutney
FOR MAKING CHUTNEY
Mix and grind all the ingredients of chutney given above in a mixer-grinder
Recipe Contributed By:
Nisha Rajpoot
Raipur
India
Time Taken: 30 minutes