Beetle leaf or pan is a very popular after-mint all over India. This cooler is served after dinner and is made from Pan. Serve chilled in shot glasses!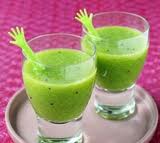 Ingredients:
3 beetle leaves
4 tbsp gulkand ( a sweet preserve made of rose petals)
a pinch of cardamom powder
3 shoots of freshly grown fennel
two- three threads of saffron
1 cup vanilla ice cream
400 ml chilled milk
green food color 5 drops
Procedure:
Blend all the contents except the milk in a blender. while serving add the chilled milk, mix well and serve in very small glasses. This is used only as mouth freshener after meals and not a drink.
Recipe Contributed By:
Komal Bhow
Vadodara
India
Time Taken: 10 minutes