Cooking is an art and I started learning how to cook only when I went abroad to study and spent days without good home-cooked food. As soon as I came home the first thing I wanted to learn was chicken as it is a dish that provides proteins and minerals at the same time and is easy to make and can be consumed with both rice and bread (rotis).This dish is called royal chicken and as the name suggests, is very rich and spicy, but with fewer ingredients, lesser cooking time and best results.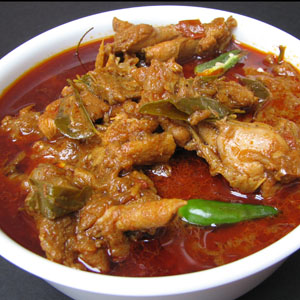 Ingredients:
Chicken pieces cut into 30 gram cubes (250 grams)
Turmeric powder
Chilly powder
Pepper powder
Salt
Sugar
One long green chilly/ 2 short green chillies
Garlic(4-5)
Tomatoes (2)
Onions (3 small or 2 big)
Ginger (1 inch)
Potatoes (1 big or 2 small)
Olive oil (2 tablespoons,
Cinnamon stick (1)
2 cloves
2 cardamoms
1 lemon
Procedure:
Wash the chicken pieces, pour 2 tablespoons lemon juice, 2 teaspoon salt, 4 teaspoons black pepper powder, 4 teaspoons turmeric powder,1 teaspoon red chilly powder and mix it well. set aside to marinate for 3 hours. grind the onions (cut in small pieces), garlic, and ginger together into a paste in a mixer. Pour into the marinated chicken. Mix well. Now grind the tomatoes seperately after removing the seeds. Pour two tablespoons of olive oil into the chicken mixture. Place a kadai on high flame and pour the entire chicken mixture into it. Reduce the flame after 3 minutes constantly stirring the mix. Now cook on simmer till the entire mix turns golden brown and oil starts appearing on the surface. Now pour in the tomato paste and stir again. Add the potato (peeled and cut into half), one green chilly, cinnamon, cloves and cardamom and transfer into a pressure cooker . Pressure cook for 5 minutes on medium flame till 3 whistles are heard. Royal chicken is ready ! This rich thick chicken gravy can be had with chapatthis, idlis , dosas and plain white rice.
Recipe Contributed By:
Antara Sengupta
Chennai
India
Time Taken: 45 minutes