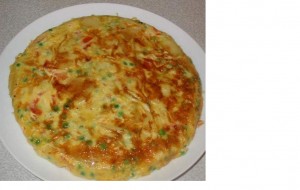 Ingredients:
3 eggs
1/2 cup finely chopped onion
1 small finely chopped green chilli
¼ cup chopped tomatoes
1 cheese cube, grated
1 teaspoon cumin powder
2 teaspoons vegetable oil
Salt and pepper to taste
Procedure:
Beat the eggs in a bowl. Add salt, pepper and cumin powder and beat again. Heat a little oil in a pan. Add green chilli and onions and sauté over medium heat till onions are translucent. Add tomatoes and cook until tender. Remove the onion tomato mixture and clean the base with a tissue paper. Add the remaining oil and heat on high. Pour the beaten eggs slowly and spread all over the base evenly. Let it settle for a minute and then turn it upside down. Spread the onion tomato mixture and grated cheese all over the omelette evenly. Turn the omelette half way from both the sides and serve hot.
Recipe Contributed By:
Dattatray Desai
Thane
India