"The traditional Indian Rabri prepared including Paneer with a tasty modification to enhance your taste buds"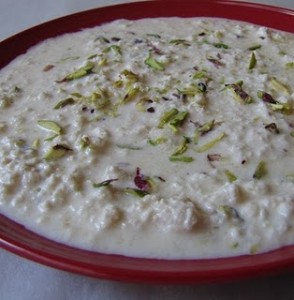 Ingredients:
Milk Maid -1 Tim
Milk -1.5 Ltr
Paneer-250 grams (finely chopped or crushed)
Grated Pistachios (1/4 cup)
Saffron threads -4-5
Procedure:
Finely chop paneer to tiny square pieces or crush it.
Bring milk to boil and simmer for 30-40 minutes to get it thickened.
Add milk maid and paneer to boiled milk and keep stirring for another 10 minutes.
Let it come to the consistency of custard. Add saffron threads and let it cool.
When it comes to room temperature, refrigerate it till it chills.
Garnish with chopped pistachios and serve chilled.
Recipe Contributed By:
Rimpy Suri
Vadodara
India
Time: 45 minutes