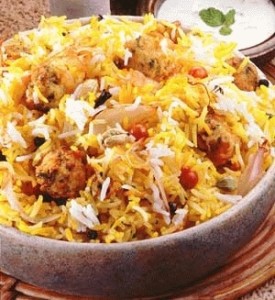 Ingredients
For the koftas
3/4 cup soaked chick peas (Kabuli chana)
1 onion
1 green chilli
2 tablespoons chopped coriander
3 cloves garlic
Juice of 1/2 lemon
Salt to taste
oil for cooking
For the gravy
1 onion, finely chopped
2 tomatoes, pureed
1 teaspoon grated ginger
1/2 teaspoon turmeric powder (haldi)
1 teaspoon chilli powder
3/4 teaspoon garam masala
2 cups chopped spinach (palak)
1/3 cup cream
2 tablespoons oil
salt to taste
For the rice
1 cup long grained rice
2 cloves
2 bay leaves
salt to taste
1/2 cup mint leaves, chopped
1/3 cup milk
1 tablespoon butter
1/4 teaspoon cardamom powder
a few strands of saffron
For the koftas
1. Combine all the ingredients except the oil in a blender and grind to a smooth paste.
2. Shallow fry spoonfuls of the mixture on a non-stick pan, using a little oil over a medium flame, till both sides are golden brown. Drain and keep aside.
For the gravy
1. Heat the oil in a pan and saute the onion till translucent.
2. Add the tomato puree, ginger, turmeric and chilli powder and cook till the oil separates.
3. Add the garam masala and spinach and saute for a further 2 minutes.
4. Add the cream and salt and mix well. Keep aside.
For the rice
1. Clean and wash the rice.
2. In a large pan, add the rice, cloves, bay leaves, salt and 2 cups of water.
3. Bring to a boil and simmer till the rice is almost cooked. Keep aside.
How to proceed
1. In a greased bowl, spread the half the rice to form one even layer.
2. Arrange all the koftas over the rice.
3. Spoon the gravy on top and sprinkle the mint leaves.
4. Spread another layer of rice.
5. In another pan, combine the milk, butter, cardamom powder and saffron and bring to a boil.
6. Pour over the layered biryani.
7. Cover with a tight lid and bake in a pre-heated oven at 200°C (400°F) for 20 minutes.
8. Serve hot.
Tips
The chick peas have to be soaked for at least 6 hours. 1/4 cup raw chick peas will yield approx. 3/4 cup of soaked chick peas.
Recipe Contributed By:
Mano
Hyderabad
India
Time taken: 60 minutes