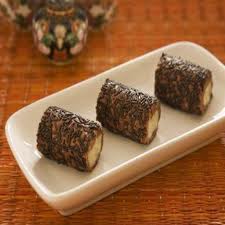 Ingredients:
Cashew nuts, chopped   :       50 Gms
Almonds, chopped       :       50 Gms
Pistachios, chopped    :       50 Gms
Drinking chocolate     :       50 Gms
Dry (desiccated) coconut powder:      ½ cup
Marie Biscuits :       8 pieces
Milkmaid       :       200 Gms
Silver foil    :       for wrapping
Procedure:
Take a bowl and add all chopped dry fruits in it.
Add drinking chocolate and milkmaid. Mix well.
Crush biscuits with hands properly. Add crushed biscuits into the bowl.
Divide the mixture into three equal parts. Make long cylindrical rolls from each part.
Spread coconut powder in a plate and place each roll in coconut powder so that it is nicely covered with it.
Wrap silver foil over each roll and pack it nicely. Fold and seal the ends nicely, it should be properly covered.
Put these rolls in freezer for 1 hour and than refrigerate it for another 1 hour in fridge.
Then, open the wrapped foil, take out the rolls, cut it into 2 cm pieces.
Serve rich chocolate rolls.
Recipe Contributed By:
Pooja Ahuja
Indore
India
Time Taken: 30 minutes