Vegetable Noodle Soup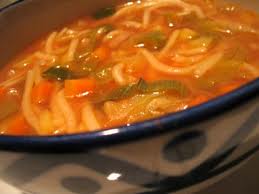 Ingredients:
Tomato-3
Carrot-1
Peas-1/2 bowl
Shimla Mirch-1
Noodles- 50gm
Butter- 2 tb Spoon
Green Chillie- 1
Ginger- 1 inch
Black Pepper- 1/2 tea spoon
Salt- Acc to taste
Lemon- 1 tea spoon
Procedure:
Chop Carrot, Tomato and Shimla Mirch in small pieces.
Put a pan on medium flame and add butter into it.
Add chopped green chilies and grated ginger into it and fry. After that add Peas and again fry for 2 mins. Now add all the chopped vegetables and fry for another 5 mins and add water. After the water boils, add noodles, Salt, Black pepper and on low flame boil it for 5 mins.
Soup is ready now!
Recipe Contributed By:
Rohit Aggarwal
Delhi
India
Time Taken: 40 minutes