Crispy Prawn Fritters is a delicious snack with crispy outer covering but soft n juicy in the centre.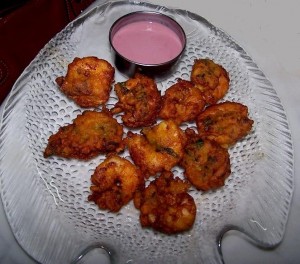 Ingredients:
Prawns, thoroughly cleaned – 15-20
Mint leaves, finely chopped – 2tsp
Green chillies, finely chopped – 2-3
Coriander, finely chopped – 2tsp
Ginger-Garlic Paste – 2tsp
Medium sized onion, finely chopped – 1
Rice flour – 1/2tbsp
Besan or gram flour – 3tbsp
Turmeric powder – 1/2tsp
Salt – 1/2tsp
Roasted cumin powder – 1/2tsp
Oil for frying
Procedure:
Rub the turmeric, salt and cumin powder into the prawns. – Mix in the chillies, ginger-garlic paste, onion, coriander, mint leaves and cumin powder, making sure it has been spread evenly.
Leave the mixture for about 10-15 minutes.
Now add in the besan and rice flour and mix thoroughly.   (You don't need to add water as such, because the onion and prawns will secrete moisture. But if the batter is too dry add in a few drops of water)
Heat oil in a pan. Pick a prawn individually making sure it's coated with the batter and deep fry until red.
Serve Hot
Recipe Contributed By:
Poonam Jadhav
Mumbai
India
Time Taken: 30 minutes