Delicious over ripened banana munchies…perfect as evening snacks/dessert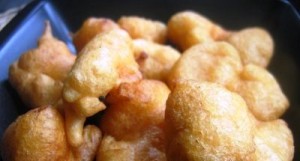 Ingredients:
4 pcs over ripened banana,
grated coconut-100 gm
sugar- 200 gm
white flour-75 gm
sauf-1 tsp
kaju- 2 tsp(broken)
raisins- 2 tsp
Oil to fry
Procedure:
Mix all but flour at first in a mixing bowl. Add flour to make consistency thick. Fry in small bhajia size in a frying pan. Serve hot or reheat for 20 seconds in microwave.
Recipe Contributed By:
Suddhasatta Nandi
Kolkata
India
Time Taken: 20 minutes