It is a snack made out of fish and potatoes. It is mildly spiced and can be enjoyed with tomato sauce, mayonnaise and chutneys.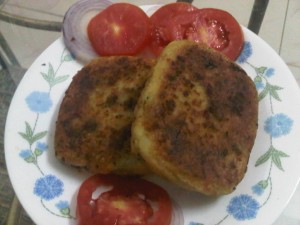 Ingredients:
Fish (rohu):300g
boiled potato:1 medium
brown bread:1
cilantro:25g
green chillies:1
garam masala:1tsp
corn flour paste:2 tsp
bread crumbs:2 tsp
Procedure:
Clean the rohu.Boil it for 3 mins.Debone it.Mix it with the boiled potato, bread dipped in water ,green chillies,cilantro ,salt and garam masala.
Make square shaped cutlets/cakes. Dip them in the corn flour slurry ,coat with bread crumbs.
Fry for 15 mins.
Serve hot and piping.
Recipe Contributed By:
Mehwash Faruqui
Vadodara
India
Time Taken: 30 minutes