Corn Handvo is a Gujarati Dish and it is perfect for Tea time and Breakfast.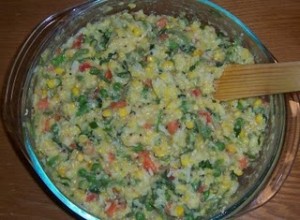 Ingredients:
2 cups frozen corn (thawed and grated)
1 large potato (boiled and mashed)
1 cup cooked rice
1 cup chopped boiled vegetables(green beans, peas, carrots)
1 cup boiled corn
1 cup chopped tomatoes
1 cup bread crumbs(toast 2 bread slices and then grind in the mixer)
1 cup milk
2-3 tbsp tomato ketchup
2 tbsp coconut powder
5 tbsp chopped cilantro
3 tbsp crushed ginger-chili
1 tsp ghee
1 tbsp oil
1 tsp cumin seeds
2 tsp mustard seeds
pinch of asafoetida
1 tbsp sesame seeds
5-6 cashews (halved)
5-6 golden raisins
7-8 curry leaves
salt, sugar, lemon juice as needed
oil spray
Procedure:
1.Heat ghee in a pan and add cumin seeds. Add crushed corn, salt, 1 tbsp chili-ginger, 1 tbsp coconut, sugar, lemon juice, 2 tbsp cilantro and 1 cup milk. Let it thicken at low-medium heat. Stir continuously. Set aside.
2.Add 1 tbsp chili-ginger, 1 tbsp cilantro, salt, lemon juice and sugar into mashed potato and mix well.
3.Take a large mixing bowl and add crushed corn mixture, mashed potato mixture, boiled vegetables, tomatoes, cilantro, rice and mix well. Add chili-ginger, sugar,salt, lemon juice if needed.
4.Heat oil for tadka. Add mustard seeds, asafoetida, sesame seeds, curry leaves, cashews and raisins. When sesame seeds are golden brown turn off the heat and add this tadka to the mixing bowl. Mix well.
5.Preheat the oven at 350 F.
6.Coat conventional oven-safe bowl with oil spray and spread half of the mixture. Now layer with tomato ketchup. Pour rest of the mixture and layer with bread crumbs.
7.Put in the oven for about 20-25 minutes or until the bread crumbs are golden brown.
8.Serve with tomato ketchup or cilantro chutney.
Recipe Contributed By:
Dhaara Pateel
Gandinagar
India
Time taken: 25 minutes