"Easy scrumptious meal in itself…"–Sangita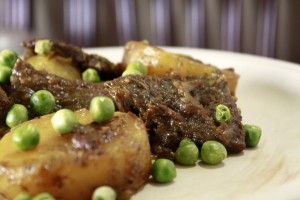 Ingredients:
Beef (steak) – 1 kg
Onions –  ½ kg
Potato – 4 big
Green peas – 2 tb spoon
Ginger/garlic paste – 1 tb spoon
Green chillies – 5 nos.
Vinegar – 2 tspoon
Salt to taste
Oil to fry onion
Pepper as required
Procedure:
Smash the steak pieces, add salt and pepper. Fry the onions in oil until it turns pink. In another pan take the steak and dry out.  Add the meat to onions, add ginger/ garlic paste and green chillies.
Put in pressure cooker for twenty minutes. Take off the fire. Add potatoes  (thick slices), add vinegar
And cook again in pressure cooker for another ten minutes.
Boil the green peas and put it on top and serve.
Recipe Contributed By:
Sangita Acharya
Mumbai
India
Time taken: 45 minutes