This mouth-watering dish was and is, still a weakness for me. I remember how my mother used to blackmail us with this dish just to get her chores done, "If you do this for Mama, you will get crispy tasty prawns for dinner!" Oh, we could fall flat for that line, because as promised dinner would be a scrumptious serving of crispy golden prawns with steamed rice, rasam and dal…So am sharing with you here on 'Slurrpy' a favourite South Indian sea food dish, 'Era Varuval' which means 'Prawn fry'.
Ingredients:
1 kg Era/Prawns
½ tsp turmeric powder
1 tsp vinegar
1 tsp cumin seeds
3-4 red chillies
3-4 pepper corns
2-3 pods of garlic
A bunch of coriander leaves
Just a few coriander seeds (dry roasted)
Few curry leaves
Salt to taste
Oil
Method:
De-vein and clean the era/prawns well. After the prawns have been washed, add vinegar and salt and let it stand for little while, then wash off. This will help remove any germs.
Once washed, drain off the excess water and boil prawns in a vessel with turmeric powder and salt. Do not add any water as prawns will release water. Cook on medium flame till the water gets fully evaporated.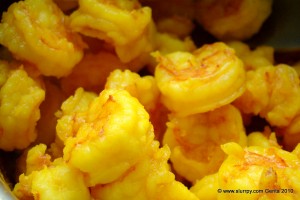 For the masala

:- Grind together in a blender/mixer – cumin seeds, red chillies, pepper corns, garlic, coriander leaves, curry leaves, salt (to taste) and coriander seeds. Grind to a coarse form, and apply this over the prawns. Allow to marinate for a while.

For frying

– Heat oil in a shallow wide pan and tip in the masala coated prawns. Fry on low heat till the prawns turn lovely golden colour and till the masala gets well fried and crispy.
Serve hot with steamed white rice and dal.
Preparation Time: 30 minutes
Serves: 3-4