Light eggless crepes stacked with creamy white chocolate saffron custard!
This tastes out of the world – yummy crepes layered with a white chocolate saffron custard and very few calories. Let me show you how!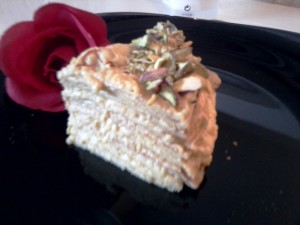 Ingredients:
FOR THE EGGLESS CREPES
6 tablespoons white flour
Pinch of pure saffron
Pinch of baking powder
3 tablespoons of sugar
3 tablespoons of butter
Milk as needed to make a thin batter ( i used skimmed milk)
FOR THE WHITE CHOCOLATE SAFFRON CUSTARD
500ml + 4 tablespoons skimmed milk
150 grams of white chocolate ( or more depends on how sweet you want it)
Pinch of pure saffron
2 tablespoons custard powder
Recipe:
FOR THE SAFFRON CREPES
Mix all the dry ingredients together and with an electric beater.
Add the milk and make into a thin batter.
Keep aside for an hour.
Heat an iron non stick pan, girdle till hot.
Add a tiny piece of butter and with a ladle pour the batter and with the back of a spoon even it out to a thin round.
Cook on one side and then flip and cook on the other. Make all the pancakes like this and keep .
FOR THE CUSTARD
Heat the milk in a pan and add the saffron. Add the white chocolate and let it melt.
Mix the other milk with the custard powder and pour into the heated milk and cook till thick. Taste and if you need it sweeter and some more white chocolate.
Don't add sugar, let it cook till thick and cool it.
TO MAKE THE TORTE
In a plate put one crepe and then spoon the cooled custard on top of it and cover with another crepe, repeat till all the crepes and custard is used up.
Decorate with nuts of your choice and refrigerate overnight for the flavors to blend.
EAT AND ENJOY THIS AMAZING DESSERT!
Time: 2 Hours
Recipe Contributed by:
NITU CHUGANI
Valencia
Spain