Healthy, delicious and easy to cook.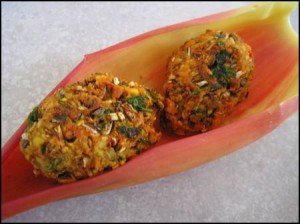 Ingredients:
Banana flower(vaazhaipoo)
Chenna dal-1cup
cumin seeds-half spoon
green chilly-3
rice flour-4spoon
salt to taste
curry leaves-3spoon full
coriander for flavour
oil to fry
Procedure:
Soak chenna dal in water for half an hour. Drain and grind with chilly, cumin seed and half of cleaned banana flower. Grind them roughly. Mix this mixture with finely chopped coriander, curry leaves, and remaining flower. Add salt and rice flour and mix them well. Make vada and deep fry in oil until golden brown color.
Recipe Contributed By:
Mrs Sasikala Duraiswamy
Salem
India
Time Taken: 30 minutes