A spicy, delicious, traditional food.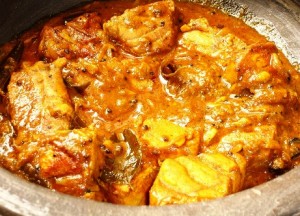 Ingredients:
fish-half kg
small onion-10
big onion-1
green chilly-3
tomato-3
garlic-8to10
tamarind-lemon size
curry leaves
fenu greek-1 spoon
cumin seeds-half spoon
crystal salt to taste
chilly powder-2 spoon
coriander powder-3 spoon
turmeric powder-half spoon
mustard oil-10 spoon
Procedure:
Add oil in thick bottomd vessel n then add mustard seed,cumin seed,curry leaves n fenu greek until to sparkle.then add small onion n garlic fry until golden brown colour then add 2 tomatos.grind the remaining tomato n big onion n add them in to the frying pan allow them to fry for few sec.add green chilly n all masala powder n tamarind juice in to it boil until raw smell wil go off. Then finally add salt n fish pieces in to the gravy for 10 min.Finally add 1 cup of coconut milk.Now tasty fish gravy is ready to be garnished with curry leaf n enjoyed!
Recipe Contributed By:
Mrs Sasikala Duraiswamy
Salem
India
Time Taken: 30 minutes