Yummy tangy tomato chutney goes well with hot rice, rotis, dosa and idlis. This chutney can be used by keeping in refrigerator for two-three days.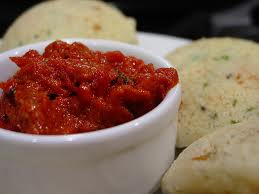 Ingredients:
8 medium sized Tomato (cut into pieces)
3 tbsps cooking oil
1/2 tbsp Cumin seeds
1 inch piece Ginger (finely chopped)
7-8 cloves Garlic (finely chopped)
1 medium sized Onion (finely chopped)
8-10 leaves Curry leaves
2 Green chillies (finely chopped)
1/2 tsp Red chillies powder
1 tsp Coriander powder
Salt to taste
1/2 tsp Garam masala powder
Fresh coriander leaves few (chopped)
Procedure:
Heat oil in a kadai; add cumin seeds, when it starts changing colour, add ginger and garlic saute till light brown. Add onion and fry till translucent. Add curry leaves, green chillies, red chilli powder and coriander powder. Saute briskly. Add tomatoes and salt. Cook until tomatoes are well cooked and soft. Add garam masala powder and coriander leaves. Mix well and serve with hot rice.
Recipe Contributed By:
Thulasi
Bangalore
India
Time Taken: 15 minutes