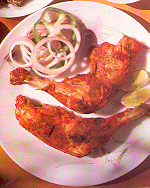 Ingredients:
Chicken about       1200 Gms cut into pieces
Butter for basting   50 Gms
Chaat masala         1 tablespoon
Ginger-garlic paste  1 tablespoon
Lemon juice          1 tablespoon
Chilli powder       1/2 tablespoon
Hung curd            1 cup
Dhania powder        1 tablespoon (coriander)
Garam masala         1 tablespoon
Salt To taste
Procedure:
Clean the chicken pieces and make small incisions.
Then mix chilli powder, lemon juice and ginger-garlic paste and rub it on the chicken pieces and allow it to marinate for about 2 hours.
Then mix the yogurt, dhania powder, garam masala, red color and salt and rub it on the pieces again and allow it to stand for another few hours.
Preheat the oven at 200. Oil the grill and put the chicken pieces onto it.
 Cook on combination mode at 200 for 16 minutes and then on convection mode for 12 minutes at 200.
Towards the end of the cycle baste with the butter on both the sides.
Serve with onion rings, lemon wedges and sprinkled with chaat masala.
Recipe Contributed By:
Noorulqamar
Aligarh
India