Here the mutton is cooked with tomatoes & herbs and then it's added to the rice. Tastes delicious!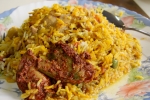 Ingredients:
500 grams of meat
1 kg rice
tomato puree small carton
250 grams of curd
edible oil 2 cups
maggi chicken stocking 2 pieces
2 onions
3teaspoon red chili powder
1 teaspoon turmeric powder
5 teaspoon garlic & ginger paste
2 tea spoon garam masala powder
5 tea spoon of salt
cinnamon-sticks 3
1 cup coriander
1/2 cup mint cut with sticks.
Procedure:
Heat the oil, add two onion sliced to the oil and half fry it till translucent. Add 3 teaspoon of ginger & garlic paste and fry for a minute. Now add meat, mix it well and add the tomato puree & curd. Add chili powder, turmeric powder, 2 tea spoon salt, garam masala powder & chicken stock. Pressure cook till the meat is cooked.
Now in another vessel fry two onion add garlic & ginger paste add 1 liter of water when the water boils add salt &rice pre soaked for 20 minutes now when the rice started to be cooked add the meat with soap and mix well add coriander & mints again mix see the required water needed now taste for salt add if needed now cover it give full flame for 4 minutes & now put it on sim for 10 to 15 minutes add cup of ghee on top of rice &serve after 15 minutes.
Recipe Contributed By:
Imroze Jameela
Hyderabad
India
Time Taken: 1 hour