It comes under the main course and is generally eaten with rice. It is a typical dish of western Orissa. Low calorie food with excellent aroma. Need very few ingredients.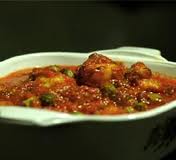 Ingredients:
Vadi(indian bari) 1/2 cup
5 tomatoes finely sliced
1 potato cut in small cubes
1 brinjal cut into thin slices
4 tbs of refined oil
3 tbsp mustard seed
1 tbsp of tamarind powder
6 no. of green chillies
10 curry leaves
6 nos of garlic.
Procedure:
First of all make a paste of 2tbs of mustard seeds,1 tbs of tamarind powder and 4 nos of green chilles.Leave it aside.Heat a frying pan and put 1 tbs of refined oil into it,fry the bari till it slightly brown,keep them aside.Again put 2tbs of oil into the pan and 1/2 tbs of mustard seeds,when the seeds crackle add chopped tamatoes into it.fry the tamatoes till its cooked well.Add two small glass of water into it,salt to taste,paste of mustard seeds,tamarind powder and green chillies,potato and brinjal pieces.Let them boil until the vegitables cooked and water get reduced to 1 glass.Take the frying pan out of fair.Heat 1/2 tbs oil in another frying pan,when the oil get heated add mustard seeds,curry leaves and chopped garlic.Now add the mixture in the besara,mixed them well.Now the besara ready to eat. Serve with hot rice.
Recipe Contributed By:
Miss Susmita Nanda
Sambalpur
India
Time Taken: 20 minutes