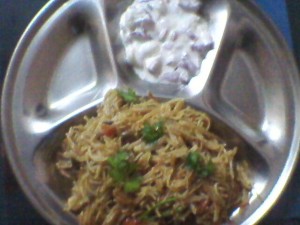 Ingredients
semiya-4 cups
onion-200gm,
tomato-150gm,
ginger garlic paste-1tsp,
garam masala powder-1/2tsp,
green chilli-4nos
chopped corainder and mint leaves-1 cup,
oil-as u prefer(50ml)
cloves-2nos
cinnamon stick-2nos
aniseed-1/2tsp
bay leaf-1
water-4 and half cups
salt to taste
Procedure:
1. Fry the semiya in a pan til;l it gets golden brown
2. Heat the oil in a pan.
3. Add ani seeds,bay  leaf,cloves and cinnamon sticks in the heated oil
4. Then add onions to the pan and fry till it gets golden brown
5. Then add ginger garlic paste.
6. After two mins add grinded mint leaves,corainder leaves and green chillies.
Add garam masala powder and mix well.
7. Mix 2mins.
8. Then add tomatoes.fry till the tomatoes gets smashed.the add required water boiled water and salt to taste.
9. Then let it to boil.now add the fried semiya to the mix.
10. Cook 5mins.
11. Then off the stove and leave it for 5mins.
12. Hot spicy semiya is ready to serve with onion raitha.
Recipe Contributed By:
Girija Shrehari
Chennai
India
Time Taken: 30 minutes