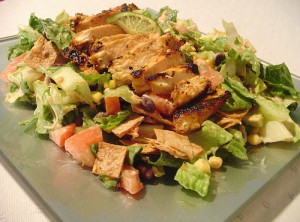 Ingredients:
2 cups cooked chicken, chopped
1/2 cup Monterey jack cheese, shredded
1/2 cup cheddar cheese, shredded
1 avocado, diced
1/2 cup olives, chopped
1 tomatillos (also known as a Mexican Cherry tomato), chopped
1/2 teaspoon chili powder
1/4 teaspoon garlic powder
1 teaspoon onions, chopped
Black pepper
2 tablespoons mayonnaise
1 teaspoon green chiles, minced
2 teaspoons sun-dried tomatoes (oil-packed), minced
Procedure:
Lightly mix the first 10 ingredients together.
Moisten with mayonnaise, using more or less as desired. Mound in 4 decorative serving dishes, sprinkle the minced green chilies and minced sun-dried tomatoes on top. Chill for 1 hour.
Serve with corn chips or crisp-fried tortillas as a light lunch.
Recipe Contributed By:
Sharmila chinniah
Chennai
India
Time: 10-15 minutes