Matar Paratha is really a good recipe for breakfast. It has the natural sweetness of peas combined with a hint of jaggery, green chilies and lime that makes every bite enjoyable.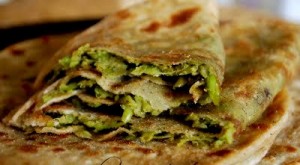 Ingredients:
For the Dough:
4 cups Wheat Flour
1/2 tbsp Salt
1/2 cup melted Ghee
1 1/3 cup warm water or as needed
For the Filling:
2 1/2 cups coarsely mashed cooked Peas
2 tbsp Oil
1 tbsp finely chopped Ginger
1-3 chopped Green Chillies
1/4 tsp Asafetida
2 tsp Garam Masala
1 1/4 tsp salt
2 tsp Lime juice
2 tsp Jaggery
3 tbs finely chopped Coriander
Ghee / oil for cooking
Procedure:
For the Dough:
– Mix the Flour and salt in a bowl.
– Drizzle in the melted butter ot ghee and rub it in the flour.
– Add water slowly and make a medium stiff dough.
For the Filling:
– Heat oil in a large frying pan. Toss in the ginger and chillies.
– Fry until the ginger turns brown, now add the asafetida.
– A few seconds later add the peas.
– Add the remaining ingredients and stir fry for about 2 mins.
– Remove fom heat. Divide into 10 equal portions. Let it come to room temp. before making the parathas.
– Roll out a portion of the dough. Stuff in the peas mixture.
– Add little oil to fry pan and cook till it turns brown. Similarly cook on the other side.
– Serve mattar parantha hot with yogurt and chutney or pickle.
Recipe Contributed By:
Poonam Jadhav
Mumbai
India
Time Taken: 20- 25 minutes