It's a mouth watering vegetarian dish From Goa. I first tried this dish on my brothers birthday and it was an instant hit.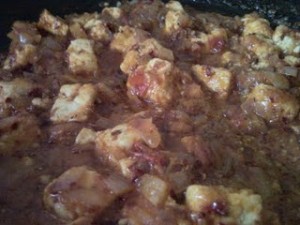 Ingredients:
200 gms paneer/cottage cheese
baby corn 50grm
one medium sized onion
2 medium tomatoes
1/2 inch piece of ginger
4-5 cloves of garlic
6-8 red chillies whole
1/2 tsp of jeera
5-6 cloves
1/2 tsp of mustard seeds
1/2 inch stick of cinnamon
1/4 cup malt vinegar
1/2 cup tomato puree
1 tsp of sugar
Procedure:
Grind the whole red chillies, garlic, ginger, jeera seeds, cloves, cinnamon, mustard seeds and salt to taste with part of the vinegar. Heat oil in a pan, and sliced onion and fry till light brown. Add chopped tomatoes and cook for around 5-8 minutes.Add in the tomato puree and the ground masala. Mix well and cook. Add the salt and sugar according to taste. Add in your square sized paneer,and slices of baby corn and the remaining vinegar and cook till masala is well coated on the paneer and it is done.
Recipe Contributed By:
Hema
New Delhi
India
Time Taken: 30- 40 minutes