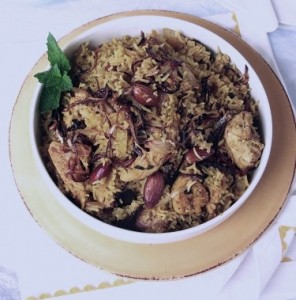 Ingredients
Chicken – 1 (about 800 gms), cut into MEDIUM pieces
Ghee or Oil – 1/3 cup
Turmeric Powder – 1/2 tsp
Fresh mint leaves- 10-15 psc.
Green Chillies – 2 to 3, cut into slanting halves
Coriander Powder – 1 tbl sp
Basmati Rice – 1 cup
Salt – 1/2 tsp (as per taste)
fresh tender green peas-1/4 cup
almonds-1/3 cups (soaked overnight and peeled)
Onions – 2, medium sized, roughly chopped
Ginger – 1 inch piece, roughly chopped
Garlic – 5 to 6 cloves, roughly chopped
(all the above 3 should be in a paste form)
Garnish with :
Coriander Leaves – chopped
a pinch of Garam Masala Powder
Juice of 1/2 Lemon
Procedure
Wash chicken and set aside to drain in a strainer. Now make several slits/cuts in the chicken flesh. Rub ground paste into chicken uniformly and set aside to marinate for an hour.
on the other side ,Heat ghee or oil in a heavy based pan over moderate heat.fry almonds and drain and set aside.
now Add chicken with its marinade, spice powders, fenugreek leaves and chillies, and peas.Cover pan and simmer, stirring occasionally for 10 to 15 minutes, till water released from chicken is almost absorbed. You should Lower the heat and cook for another 5 to 7 minutes.now  Remove any excess ghee or oil from pan. Meanwhile Wash rice and soak in water for 15 minutes. Drain rice and add to pan.( Stir till translucent.) Mix in salt and 2 cups of water and almonds .Cook rice for 10 to 15 minutes till water is absorbed and rice is tender. Sprinkle with coriander leaves, garam masala and lime juice.
Serve hot your sassy badami – murg-pulav.
Recipe Contributed By:
Richa Jha
Patna
India
Time Taken: 30 minutes