"For all the chocoholics out there – a scrumptious, crumbly chocolate extravaganza!"–G A Kurien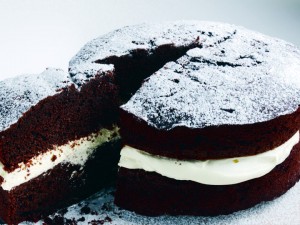 Ingredients:
Chocolate – 300 gms
Butter – 250 gms
Flour – 400 gms
Baking powder – 1 tsp
Cinnamon ( ground) – 1 tsp
Castor sugar – 125 gms
Egg  – 1 no
Oats – 25 gms
Demerara sugar – 3 Tbs
Procedure:
Break 200 gms of the chocolate into pieces. Melt the chocolate in a double boiler.
Add 25 gms of the butter and stir till smooth.
Sift the flour, baking powder and cinnamon into a bowl.
Add the remaining butter and blend until the mixture resembles coarse crumbs.
Blend in the castor sugar.
Reserve 250 gms of this crumble mix.
Add the beaten egg to the remainder and mix to a firm paste.
Press the paste into the base of the prepared loose bottomed cake tin.
Spoon the melted chocolate mixture over the base to within 1 cm of the edge.
Chop the remaining chocolate and mix it with the reserved crumble mixture, the oats and the Demerara sugar.
Sprinkle over the chocolate layer.
Bake in a pre-heated oven at 150* F for 45 mins.
You can decorate with white butter icing, if required.
Recipe Contributed By:
G A Kurien
Mumbai
India
Time: 45 minutes-1 hour