"A family favourite during Christmas that is made up of yummy chicken, creamy white sauce & soft macaroni!"–G A Kurien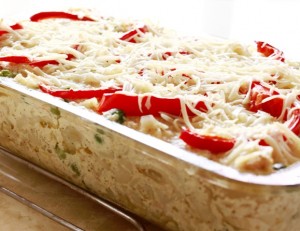 Ingredients
Chicken spares (wings, ribs, liver, neck, etc.) – of 1 chicken
Green chillies – 3 nos
Ginger/garlic paste – 2 tsp
Onions – 2 medium
Salt to taste
Macaroni – 200 gms
Milk -1 lt.
Cheese – 200 gms
Egg – 1 no
Pepper pwd.  – 2tsp
Flour – 3 Tbs
Butter – 2 Tbs
Capsicum – 1 no
Grated cheese – 3 Tbs
Procedure
Cook the chicken with the sliced onions, ginger/ garlic paste, slit chillies and the salt.
When cooked, dry it out on high flame. Remove the flesh off the bones. Remove the cooked green chillies and keep the mixture aside.
Cook the macaroni in water with a little salt. Add oil on the top to keep the macaroni from sticking. When cooked, drain and keep aside.
Heat the butter. When melted, add the flour and cook until golden and add the milk, stirring continuously ( to avoid lump formation).
When this sauce thickens, add the cheese pieces and stir until it melts. Add the beaten egg and cook. Add pepper powder for flavouring. Add the macaroni to this sauce.
Now add the chicken flakes mixture to this and mix well. Pour into a pie dish. Decorate with thinly sliced capsicum and the grated cheese. Bake, at 180*C, until the cheese on top has melted and browned.
Recipe Contributed By:
G A Kurien
Mumbai
India
Country Of Origin: Italy