"Delicious Eggless Cake"– Bhakti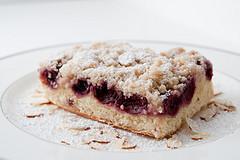 Ingredients
Almonds, cherries – 100 grams each
Maida – 250 grams
Castor sugar – 75 grams
Baking powder – 2 teaspoons
Condensed milk – 1 tin
Butter – 125 grams
Baking soda – 1 teaspoon
Hot milk – 2 cups
Almond essence – ½ teaspoon
Procedure
1.      Mix Maida, baking powder and soda altogether.
2.      Beat butter, sugar well, add essence, milk little by little and continue beating them well.
3.      The mixture should soak for sometime.
4.    Add the finely chopped almonds, finely chopped cherries, sieved flour, milk and stir them well to get a cake mixture.
5.      Pour it in the greased baking plate and bake it in 180 deg. C.
Recipe Contributed By
Bhakti
Mumbai
India
Category: Cakes
Time: 30 minutes