Gajar ka Halwa, also known as Carrot Halwa, is a very popular sweet dish in India. This is a festive dish generally made on Diwali. It can be eaten during breakfast.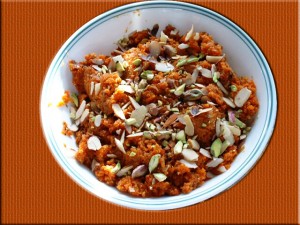 Ingredients:
1 kg juicy orange carrots
1 1/2 litre milk
400-500 gm sugar
elaichi powder (cardomon)
saffron few flakes
few drops orange colour (optional)
1 tbsp ghee
10-12 Pieces Almond n Pista for garnishing.
Procedure:
Peel and grate carrots
Put milk and carrots in a heavy saucepan.
Boil till thick, stirring occasionally.
Once it starts thickening, stir continuously.
Add sugar and cook further till thickens.
Add ghee, elaichi, saffron and colour.
Stir on low heat till the mixture collects in a soft ball or the ghee oozes out.
Serve hot, decorated with a chopped almond or pista.
Recipe Contributed By:
Jyoti Verma
Jaipur
India
Time taken: 60 minutes