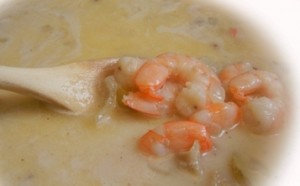 Remember that song from "The Cure"? Friday, I'm in love! Well, this is how it always goes. Friday always comes with a promise. A nice, warm weekend to look forward to; Friday is a window overlooking 2 days of complete bliss! From the Slurrpy team, here's to you a special Friday dinner idea. Try it.
Ingredients:
Shrimp (medium sized), cooked: 2 cups
Diced tomatoed: ½ cup
Basil, garlic, oregano: 2 tbsp
Olive oil: 1 tbsp
Onion, medium, chopped: 1
Water: ½ cup
Whipping Cream: ½ cup
Celery, chopped: 1 cup
Procedure:
In a large saucepan, cook celery and onion in hot olive oil until tender. To this, stir in the tomatoes. When the tomatoes start getting soft add shrimp, whipping cream and water. Cook over medium heat and season with salt and pepper.
Serve with focaccia and top with basil.