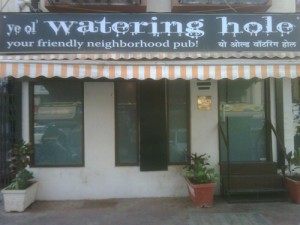 It all started with a cry for saving the kin. In Africa for the animals from hunters, in Mumbai for the friends from the daily overdose of immeasurable workload and pure pressure on the central nervous system! So here we have it, the Ye Ol Watering Hole for all of us who wants to steal away from the power hungry rat race and spend some time loving our wishes; have a little piece of peace in this busy schedule!
Started out of pure passion by two young endeavors, Kushal Punjabi and Sushil Punjabi- just to "chill out", the pub still lives up to its tag- your friendly neighborhood pub! Watch the slurrpy team unravel the mystery of its popularity.
It's not some special cocktail that's making it here! It's our very own desi "Anda".
Tandoori Anda
Ingredients
Eggs: Boiled, Peeled, halved
Cumin Powder: 4tbsp
Coriander Powder: 4tbsp
Red Chilli Powder: 4tbsp
Kitchen King Powder: 4tbsp
Ginger Garlic Paste: 2 tbsp
Lemon juice: 2tbsp
Black Pepper: 1tbsp
Curd: For marinating
Procedure
Mix all the ingredients and coat the halved eggs. Put them in a 'sheekh' and leave in a tandoor for 20 minutes. Check occasionally. If you do not have a tandoor, you can also try the same recipe in a grill or an oven! Serve with Indian dips like mint chutney or coriander chutney!
Find it here: Shop 4 & 5, Star Ship,
New Oshiwara Link Road,
Oshiwara, Andheri (W),
Mumbai
Timings:   12:00 PM to 1:00 AM