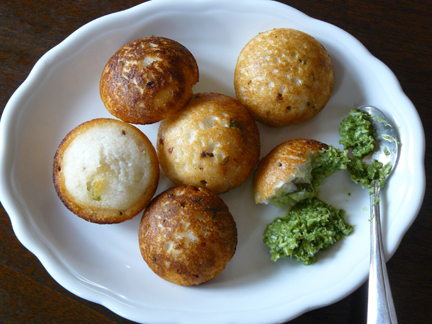 A tasty recipe coming from South India that is bound to get your lips smacking and you asking for more. Kuzhipaniyaram recipes are one of the easiest to make and can be used as a snack in different ways. So let's begin.
Ingredients:
Dosa batter – 3 cups.
Maida flour – 2 Table spoons.
Curd – 1 tablespoon.
Asafoetida powder – A pinch.
Salt – A pinch (The Dosa batter will have salt in it.)
Chopped coriander & Curry leaves.
Thin slices of green chillies – 1 heaped teaspoon .
Grated Ginger – 1Teaspoon.
A pinch of cooking soda
Procedure:
Mix the maida with the dosa batter, blending it well without forming lumps. Add the rest of the ingredients and mix well.
Now, in the special vessel that we use for making the sweet appams, pour a teaspoon of oil and smear the sides. When the oil is hot(not fuming) pour a little batter into each space(should come up only to three fourth of the space). Keep the flame low and cover the vessel.
After a few minutes, remove the lid and turn the Paniyarams over, add a few drops of oil and cook without closing . In a few seconds they will be done.
Serve hot with sauce or coriander chutney.
* You can add grated carrots or onion pieces too with the batter. It will make a tasty snack.
* You can use chilli powder instead of gren chillies when you are making this for the kids.
Getting cooked in the oil. Close it now Turn over and cook for a few seconds. Have a go at it..
Recipe Contributed By:
Suguna
Chennai
India
Time Taken : 30 Mins