All I want for summers is a cup of delicious ice-cream, and when home-made all the more to indulge in. The vanilla and cinnamon add a lovely flavour to this simple ice-cream. I was actually so excited and anxious, that I almost forgot to take a snap of it, so half-way through I had to hold on to that temptation of slurping-up the ice-cream.  If you wanna add a tropical twist to the ice-cream, use half a cup of coconut milk instead of the cream/milk/ or yoghurt.
Ingredients:
2 ripe Bananas
½ cup cream/ or use plain or flavoured yoghurt/ or can use milk ( I used cream)
½ tsp ground cinnamon
½ tsp of vanilla extract
A few gratings of the vanilla pod if available.
Method:
Wrap the peeled bananas in a plastic (sheet or cover) and place in the freezer. (Keep freezing level on maximum)
When well frozen, unwrap the frozen bananas and tip in to a food processor/blender.
To this add the cream (or milk or yoghurt), cinnamon, vanilla extract and the grated vanilla.
Puree just until smooth.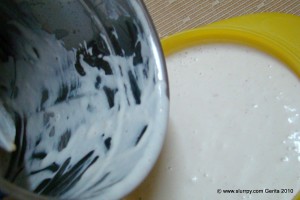 Refrigerate for few hours before serving.
Serves: 2