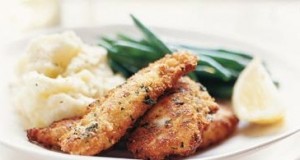 A main course recipe that's extremely easy to cook, this recipe lets you effortlessly jazz up your weeknight dinner. Not much to do by yourself- it's the oven that does the work, serve it with mashed potatoes with parsley and spinach and see how this turns into a complete meal.
Ingredients:
Chicken: 5-6 large pieces
Egg: 1, beaten
Butter: 2 tbsp
Crushed cornflakes or fine crushed crackers: ½ cup
Oregano: 1teaspoon, dried & crushed
Parmesan Cheese: ½ cup
Salt and pepper for seasoning
Milk: 3-4 tbsp
Procedure:
Combine egg and milk in a bowl and set apart. In a bowl, combine crushed cornflakes, oregano, paprika, salt, parmesan cheese, pepper and stir in melted butter in it. Dip chicken pieces in the milk and egg wash and then coat with crumbs.
 Grease a 1 inch baking pan and arrange chicken bone down and bake uncovered for 45 to 55 minutes in 375 degrees.