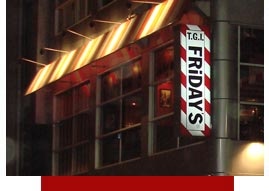 This refreshing concept embodies all the fun and camaraderie and "let your hair down" feeling that comes before a weekend and transforms that spirit into a wonderful, casual dining experience that throws its doors open all week long. Even the name has its origins in a unique spirit "Thank Goodness it's Friday.
TGI Friday's, known for casual dining is all set to flatter your taste buds and your pockets with its all new lunch offering. The restaurant has introduced Right Lunch, Right Price, Right Now-the all new lunch menu which provides the guests with an opportunity to enjoy a meal that is served at an unbelievable price of Rs 199/- (excluding taxes). The new lunch menu is the ideal combination, bringing together speed, price with great tasting food, fun and attentive service.
Guests can choose from five categories-soups, appetizers, salads, entrée's and mini desserts. And if you thought that's all on offer, then there are unlimited soft drinks as well.