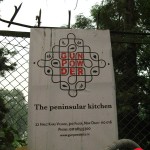 Gunpowder is a tiny eatery, (warning: difficult to locate) set up by former journalist Satish Warrier, in the narrow winding lanes of Hauz Khas Village. It has an entrance at the back of a building with a steep stairway and once you ascend that you are on the third floor into a tiny seating area of around 30-32 people, with a couple of non-fancy plastic chairs and tables, stapled pages for a menu card and a lovely balcony from where it is possible to see the entire Hauz Khas Village and its surrounding greenery, and an open kitchen from where Warrier and a cook that he has hired serve out your food. And it's definitely worth it!!
The menu is a good mix of dishes from Kerala and Andhra. So you have mouth watering soondal, avail, ada pradhaman (slurp!!), Malabar paratha, and mango pappu.  Warrier cooks the meal himself; the menu changes every day depending on the freshness of fish/meats/veggies available from the market and hence the stapled papers for a menu card. There are smiling waiters (mostly young guys from the North Eastern states who cannot pronounce South Indian dishes correctly. We had to remind him thrice for the water.
The food is excellent but not very expensive. A meal for three consisting of 2 plates of appams, 2 plates Malabar paratha and soondal came to around Rs 450. We took a seat in the verandah where we sat and enjoyed the hearty south Indian meal and the cool evening breeze from the Hauz Khas reservoir.
Gunpowder
22 Hauz Khas Village, Third Floor,
New Delhi (Delhi), India
Ph no: 011-2653-5700