This crispy festival attraction, 'Muruku', is mainly prepared during the festival of Diwali; but my demanding taste buds compelled me to prepare this for a crunchy evening snack as well. The muruku maker as you can see in the below image helps make the preparation easier and also shapes the muruku into lovely designs. Also known as 'Chakli' these tasty crunchy murukus are made, with additional ingredients like besan flour, sesame seeds, asafoetida etc.
Ingredients:
2 cups rice flour
½  cup urad flour
½  cup butter
1 ½  cup water (to knead)
1 or 2 tsp red chilli powder
1 tsp cumin seeds
Salt to taste
Oil for frying
Method:
Take a bowl and tip in the rice flour, urad flour, cumin seeds, red chilli powder, and salt into it. Mix them well.
Soften the butter and add it into the mixture.
Now add water slowly into the mixture and knead it to make soft dough.
Place a lump of dough in the 'muruku maker'.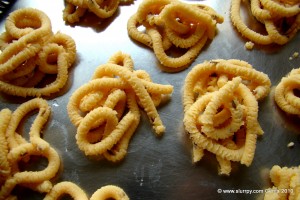 Then pipe out the pattern, forming circles on a greased plate.
Heat oil in a deep bottom vessel over medium flame.
Carefully drop into the oil the circles of dough, without touching each other.
Fry till they turn light golden brown in colour.
Place the murukus on a kitchen paper towel to drain the surplus oil.
Allow to cool and store in a dry air tight container.
Murukus are now ready to be served for an evening snack item.
Preparation Time: 45 minutes
Just a little note for a perfect muruku:
When the dough is ready and of the right consistency, cover and keep for 30 minutes to rest.
Test the oil by dipping a wooden chop stick in it. If the oil bubbles around the chop stick it is ready to receive the muruku.
While placing the muruku one by one and slowly place them in the oil and let it fry. When they float to the top of the oil turn them and wait until they become crisp. (When they are done the bubbles around them will slowly subside.)
Keep the muruku in an air tight container when they are cool. Don't keep them in the container before they are cooled as they will become soft and loose crispness if kept in the container when warm.