Spicy potato balls dipped in batter and deep fried and served with pav and chutneys.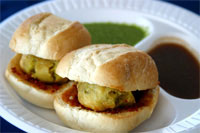 Ingredients:
For Wada
Small Pav – 4
Potatoes (Boiled) – 1 (big)
Garlic, chopped- 8 cloves
Green chillies, chopped- 2-3
Mustard seeds- ½ tsp
Curry leaves- 6
Oil- 2 tsp + for frying
Salt- According to taste
Turmeric powder- ½ tsp + ¼ tsp
Gram flour- ¼ cup
Red chilli powder- ½ tsp
Baking Soda- a pinch
For green chutney
Coriander leaves- 1 cup
Green chillies- 2
Ginger-1 piece (½ inch)
Salt- According to taste
Garlic- 6-7 cloves
Onion- ½
Sugar- 1 tsp
For red chutney
Garlic, chopped- 6 cloves
Red chilli powder- ½ tsp
Fresh Coconut, grated- 2 tbsp
Oil- 1 tbsp
Procedure:
1. Mash boil potatoes, mix salt and turmeric powder (½ tsp).
2. Heat 2 tsp oil in a pan. Add mustard seeds, curry leaves. Allow it to crackle, and then add   chopped garlic and green chillies. Sauté it till the garlic turns golden brown.
3. Put this mixture in the mashed potatoes along with the oil and mix it well. Make 4 balls from this mixture.
4. Now mix gram flour, turmeric powder (¼ tsp), red chili powder, salt, baking soda and prepare a thick batter with required amount of water.
5. Heat oil in a frying pan. Dip potato balls in the batter and fry them till it becomes golden brown.
6. Green chutney – Mix all the ingredients together and grind to a fine paste. Add salt to the chutney.
7. Red chutney – Heat oil in a pan. Add garlic (chopped) and cook till it becomes light brown. Turn off the flame than add red chilli powder.
8. Grind this garlic mixture along with oil to a smooth paste.
9. Mix grated coconut and again grind it. Saute it again in oil for 2 minutes till the oil separates.
10. Now take the pav, cut it from center without separating the ends.
11. Put green chutney on the lower base, red chutney on the upper base and put the fried wada in the centre.
12. Press the pav tightly between the palms and serve hot with chutneys.
Recipe Contributed By:
Sangeeta
Ajmer
India