A quick bread made with dried dates infused in black tea and cocoa!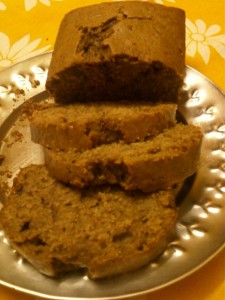 Ingredients
All purpose Flour- 3/4th cup
Cocoa Powder- 1/4th cup
Baking powder- 1 Tbs
Baking Soda- 1 tsp
Salt- a pinch
Cinnamon powder- ½ tsp
Vanilla essence- 1 Tbs
Granulated Sugar- ½ cup
Black tea- 1 cup
Eggs- 2
White Oil- 1 cup (you can also use butter instead of oil)
Dates: de-seeded and chopped- ½ cup
Procedure:
Sift the flour, cocoa, baking powder, baking soda, salt and cinnamon together.
Beat the eggs with the sugar and oil. Keep it aside.
Put the chopped dates in the black tea and boil this for 2 minutes. Leave it to cool.
Now fold in the flour mixture with the egg mixture slowly with the help of a wooden spoon.
Add the dates with tea in the egg and flour mixture and fold in slowly.
Add the vanilla in the cake batter.
Now preheat your OTG or convection micro oven in 180 degrees .
Grease and flour a loaf tin and put the batter in that.
Put the tin in the oven and bake for 50-60 minutes. The baking time depends on the oven. My oven took 65 minutes to bake this loaf
Check the loaf with a skewer, if it comes out clean; the loaf is done.
Take the loaf out from the tin and place it on a wired rack for cooling.
Recipe Contributed By:
Dwaipayan Dhar Chowdhury
Kolkata
India
Time Taken: 60 minutes