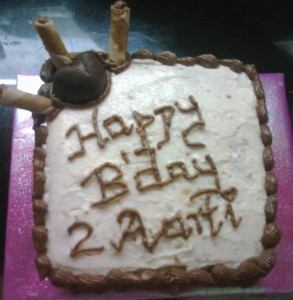 Ingredients:
100gms    Parle-G biscuits (3 packets)
1/2cup    Sugar
1 1/2cup  Milk
1/2tbsp   Eno
2 spoons   Ghee
3-4drops  Vanilla essence
Filling
Amul cream pack
150 g plain chocolate
Topping
1tbsp butter
1tbsp milk
4tbsp icing sugar
Procedure:
1-Grind the parle-G biscuits and sugar in a mixer grinder,then transfer this mixture in a bowl.Add milk and ghee and whisk until the mixture is thick.Then add ENO and vanilla essence to it.
2-Pour it into a lightly greased cake tin and bake in a preheated oven,180 degree Celcius, for 30-35 minutes, or until springy to touch. Cool slightly in the tin, then transfer to a wire rack to cool completely. For the filling, place the cream in a pan and bring to the boil,stirring.Add the chocolate and stir until melted.Remove from the heat,transfer to a bowl,and leave to cool. Beat with a wooden spoon until thick.
3-Slice the cold cake horizontally into 2 layers,sandwich the layers together with the plain chocolate cream and place on a wire rack.
4-For the topping,melt the chocolate and butter together and stir until blended.Whisk in the milk and icing sudar. Continue whisking for a few minutes until the frosting is cool. Pour it over the cake and spread with a spatula to coat the cake and spread with a spatula to coat the top and sides. Allow the frosting to set before serving. Then decorate it with chocolate sticks or gems.
Recipe Contributed By:
Nikita Choithani
Mumbai
India
Time Taken: 35 – 40 minutes