A 'dosa' slightly different from the normal ones, this dish particularly is high on nutrients as it contains various kinds of pulses. It is both crispy and yet foldable.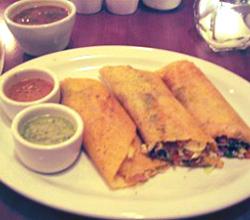 Ingredients
1 cup rice
1/3 cup each yellow moong, channa, udad dal
2 tbsp. curds
1/2 tsp. soda bicsarb
2 tbsp. oil
salt to taste
oil to shallow fry
Procedure
Wash rice separately and dals toghether.
Soak in plenty of water and keep aside for 5-6 hours.
Wet grind the rice till semolina type grain can be felt
Wet grind rice till fine.Mix both batters.
Add the curds, salt, soda and oil.
Mix well till fluffy and light.
Keep aside for 3-4 hours before making dosas.
Heat griddle, pour batter and make as for plain dosas.
Serve hot with chutney.
Make thin or thick as desired.
Recipe Contributed By:
Neha Choraria
Tirupur
India
Time Taken: 2-3 minutes per dosa