Without any preservatives, easy to prepare and so delicious!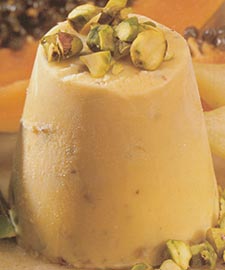 Ingredients:
Badam 4to5
Bread slice 5
1 lit milk
sugar 3 cups
saffron (soaked in hot milk)
sliced badam n pista to decorate.
Procedure:
Boil 1 lit milk in to half. Blend milk, bread slice, whole badam, soaked saffron n sugar. And keep these mixture in glass cups. Refrigerate it for 12hrs in freezer. Garnish with mixed nuts and enjoy in those upcoming hot days.
Recipe Contributed By:
Mrs Sasikala Duraiswamy
Salem
India
Time Taken: 15 min