"an awesome tasting pasta with a slight Indian touch..creamy,spicy n mouth watering.."–Gauri Kawade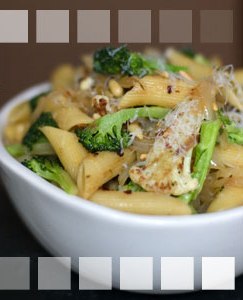 Ingredients:
1 packet of bambino pasta
3 tomatoes
3 onions
3 capsicums
4 cheese cubes
Mint leaves (pudina leaves)
1 carrot
Pepper
Salt
Chili powder
Chili flakes
Olives
Mushrooms
Oregano
Basil
Procedure:
Boil bambino pasta for 10 min. Shallow fry the cut tomatoes onions mint leaves carrot olives n mushrooms. Add salt n chili powder as per taste. Add tomato sauce or ketchup. Grate cheese. Mix everything well and top it with the remaining cheese, oregano, basil n chili flakes.
Recipe Contributed By:
Gauri Kawade
Pune
India
Time taken: 20 minutes