"A sweet and a finger licking dish which every Indian would lovingly taste. Its preparation is also very easy."–Barkha Java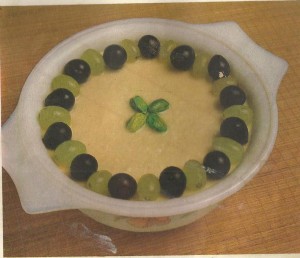 Ingredients:
2 1/2 cups curds
1 cup + 1 tbsp milk
1 cup + 1 tbsp condensed milk
1/4 cardomom powder
saffron a pinch dissolved in 1 tsp. of warm water
Fruits and nuts for decoration
Procedure:
Pour curds into a fine strainer or hang into muslin cloth to drain water from curds. When some of the water is drained and the curds is reduced to 1/2 its volume, pour into a bowl and beat till smooth. Add milk, condensed milk cardamom powder and saffron. Mix well. Pour into a pudding dish. pour enough water in the cooker pan to come up to half the level of the mould. Place the mould  in it over an upturned aluminium plate and cover withlid . Cover the pan with the lid. Switch on to "rice cooking ". When the water in the cooker begins to boil, push the switch manually to keep warm position. Switch off when it is set and remove the mould . Cool and chill in fridge. Serve, decorated with fruits and nuts.
Recipe Contributed By:
Barkha Java
Mumbai
India
Time: 45 minutes
Category: Dessert