A delicious delight for your loved ones and your special weekend guests whom you care to impress with your love for cooking & the yummiest of snacks!! Its 100% Vegetarian and Healthy too !!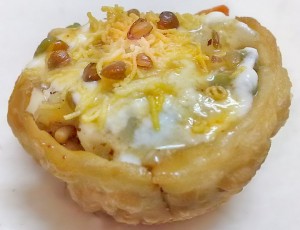 INGREDIENTS FOR TOKRI / BASKET:
Maida 1/2 cup
Wheat flour 1/4 cup
Oil 1 spoon
Salt to taste
Oil for frying katoris.
INGREDIENTS FOR FILLING:
Boiled potatoes 2 medium
Jeera 1 tsp
Amchur powder 1 tsp
Red chilly powder 1/2 tsp
Salt to taste
Sprouted moong(optional)
Lime juice 1 sp
Green corriander 1/2 cup
Pudina (mint) leaves 1/2 cup finely chopped.
METHOD FOR SWEET CHUTNEY:
Jaggery 1 cup
Black salt powdered 1 tsp
Jeera powder 1 tsp
Saunf powder 1 tsp
Red chilly powder 1/4 tsp
Salt to taste.
METHOD FOR SWEET CHUTNEY:
Melt jaggery in 1/2 cup water and add all masala stated above(sweet chutney) boil for 2 mins.
MAKING GREEN CHUTNEY:
Green corriander 1/2 cup
 Green mint leaves at 1/2 cup
 1 green chilly
 Lime juice ( 1 lime's juice)
 Salt to taste
 1/2 tsp sugar.
Grind all the ingredients and then add lime juice.
METHOD FOR DOUGH:
Take a bowl put maida, wheat flour,salt and 1 tblsp of oil. Mix and make a hard dough with the help of water.
Cover and keep aside for atleast 15 mins.
METHOD FOR FILLING:
Take a frying pan. put 1 spn oil to heat.
Put 1/2 tsp jeera in it, when it splutters put potatoes cut into small pieces.
Saute for a minute.
Put moong sprouts and all masalas and saute for 1 minute.
Lastly add green corriander and mint leaves finely chopped.
Add lime juice mix it and switch off the gas.
FOR TOKRI / BASKET / KATORI:
Make thin and small puris. Take a small steel bowl('waati') and lightly smear oil from outside.
Place it on the puri in inverted form pressing it nicely. Cut off the extra portion on the edges to make the round shape.
Place a Kadai on the gas and put oil to fry.
Fry the puris till they become crisp.
Prepare all the katoris similarly.
FOR SERVING:
Put the filling of potatoes. Put sweet chutney(prepared above), green chutney(prepared above), finely chopped
onions.
Sprinkle chaat masalaon top and garnish it with zero sized sev(very thin and small yellow sev) and serve.
NOTE:
IF YOU DONT HAVE TIME TO MAKE THE KATORIS,
YOU MAY BUY CANAPIES BOX AND FRY THOSE IN HOT OIL AND USE AS KATORIS.
Recipe Contributed By:
Sonia Ramesh
Nashik
India
Time Taken: 60 minute