"This is a very spicy recipe. Chicken lovers will definitely like it"–Snehal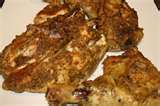 Ingredients:
1 Whole Chicken
7 Dry Red Chilies
4 Green Chilies
6 Peppercorns
30 Cloves Garlic
1 Small Ginger piece
2 Lemon juice
Salt
Oil
Procedure:
-Wash the chicken and then rub lemon juice mixed with salt all over it. Keep it for 30 minutes.
-Grind all the ingredients (except oil) in a mixer/grinder to make a thick paste.
-Now, apply this paste all over the chicken and keep it refrigerator for around 9 to 10 hours.
-Cut the chicken into pieces as per your choice.
-Heat the oil in a pan and deep fry the chicken in it till it turns golden brown. Serve hot with salad and rice.
Recipe Contributed By:
Snehal
Goa
India
Category: Non-Vegetarian