It's healthy, tasty and tempting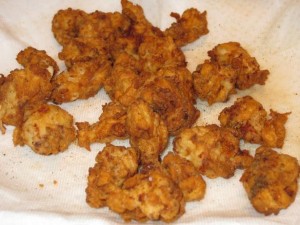 Ingredients:
3 tbsp chopped onion
3 tbsp butter
1 3/4 cups shredded, cooked chicken meat
3 tbsp chicken stock
1/4 tsp garlic paste
1/4 tsp seasoning
1/4 tsp ground black pepper
1 (3 oz) cream cheese,diced
1 1/2 cups all-purpose flour
1 tbsp Besan
1/2 tsp salt
1/2 tsp paprika
1 cup butter, chilled
5 tbsp cold water
Method:
In a large pan saute the onions in the butter until tender. Stir in the chicken, chicken broth, garlic paste,seasoning,pepper and cream cheese.Remove from heat and set aside.
Preheat oven to 190 degrees C
In a large bowl mix together the flour, salt and paprika rub in butter until mixture resembles coarse crumbs. Gradually add water, tossing with a fork until a ball forms.
On a floured surface roll out the ball to 1/16 inch thickness. Cut with a 2 1/2 inch round cookie or biscuit cutter. Reroll scraps and cut more circles until the material is used up.
Mound a heaping teaspoon of filling on half of each circle. Moisten edges with water and fold the round over filling to make a half moon shape. Press edges with a fork to seal.Roll them in besan. Prick tops with a fork for steam vents.
Place the poppers on a baking sheet and bake at 190 degrees C for 15 to 20 minutes or until golden brown.
Recipe Contributed By:
Anand
New Delhi
India
Time taken: 40 minutes