This Barbecue Chicken Pizza can be made with pan grilled chicken, or is a great way to use up left over chicken. The healthy and tasty combination of chicken, tomatoes and spring onions makes it an all time favourite. These easy pizza recipes are a great alternative to ready-made pizza. You can have the flavour of a home-made pizza baked from fresh bread dough and keep it healthy at the same time.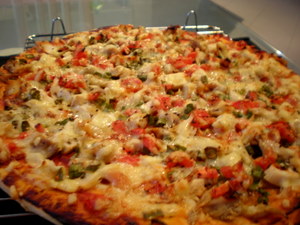 Ingredients:
300g BBQ or grilled chicken chopped into 2cm cubes
2 tomatoes, chopped into small cubes
1 tablespoon BBQ sauce
1 small bunch of green onions, chopped
150g grated low fat Gouda cheese
Pizza Dough:
 In a bowl, mix 4 cups strong bread flour with a teaspoon of yeast and a teaspoon of salt.
 Gradually add between 1-1.5 cups of water (depending on the consistency you prefer), and mix.
 Knead the dough until smooth.
 Cover the dough and leave it to rise until it is double in size.
 Divide the dough into 3 pieces and leave to rest for a few minutes.
 Roll out each piece on a floured board to 5mm thickness.
 Place on a thin baking tray sprayed with olive oil.
 Add your favourite toppings!
Method:
1. Brush the pizza dough with favourite BBQ Sauce
2. Distribute chicken pieces over the sauce.
3. Sprinkle grated cheese over the chicken.
4. Sprinkle with chopped tomatoes.
5. Sprinkle with spring onions.
6. Bake in a pre-heated 225 degree micro-wave oven for about 20 minutes
7. Bake until cheese is golden brown.
Recipe Contributed By:
'Anonymous'