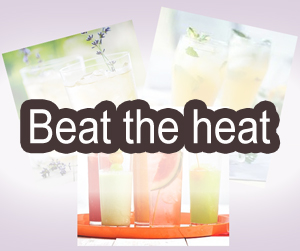 It was a lazy Sunday, with a cup of tea and 'Summer Time' by Ella Fitzgerald and Louis Armstrong. Although summer is particularly not the season I look forward to; yet, the word does have a ring to it. Think of summer, close your eyes and its all balmy, ice-tea' ish! Isn't it? And the first thing that comes to mind when you hear of summer is some cool drinks to chill with. Here are some new on the block drinks that are gonna be the talk of the town this summer. All brand new!
Fresh Melon Quenchers:
The name itself quenches our thirst; it's so fresh on the block.
Here's what you'll need:
Watermelon/ honeydew/ strawberry puree- ½ cup,
Ice cubes,
Low fat yogurt
Water
The key ingredient: A blender.
Enjoy.
Lavender Lemonade: Aah, summer is completely incomplete without lavender. My father used to wait all year round to use his special lavender green tea. That's another story. Here's a little cold shoulder to green tea for the moment, for some cool lavender lemonade.
Here's what you'll need:
Cold water: 3 cups
Lemon Juice: 1 cup
Sugar: 3/4th cup
Fresh lavender leaves: 3-4
Stir, chill and serve.
Peach Mint Green-Tea: Didn't we give cold shoulder to green tea some time back? Well, who can stop the inevitable refresher, anyway! Here's to the tea lovers a little re-t(r)ea-t that'll snap back life after a worked up hot day.
Here's what you'll need:
Peach nectar: 1/8th of a glass
Crushed, fresh mint: 4-5 leaves
Green tea: enough to fill the rest of the glass
Sugar: 2 teaspoon
Make the tea and chill. In a glass, pour peach nectar, crushed mint and sugar. Dissolve the sugar and stir in the green tea. Serve!